We're more than halfway through 2020, a year whose number now stirs up the kind of ire that 13 and 666 do. Speaking of numbers, I hit the 50-books mark in July. Granted, some of those have been audiobooks and children's books, but there are several fair-sized tomes in the mix too. With that, here are my July reads.
It Can't Happen Here by Sinclair Lewis
Published in 1935 as Hitler and Stalin were rising to power, It Can't Happen Here imagines the U.S. in the grip of authoritarian rule as puppet politician Buzz Windrip becomes president in 1936. Although in reality, Franklin D. Roosevelt became president, the U.S. would see a reality similar to the events of Lewis's book come into play when Donald Trump became president more than 80 years later. Lewis, who passed away in 1951, would have no idea how close he came to the truth, but the fact that he did is indicative that the social, economic, and political conditions that plague America today are nothing new.
"Why, the more you really do love children, the more you'll want 'em not to be born, now!"
Sourcery by Terry Pratchett
After It Can't Happen Here, I needed something much more lighthearted. Although I listened to some Pratchett radio dramas earlier this year, I hadn't read any of his books in a while. Filled with his trademark wit and featuring the endearing and exasperating Rincewind, Sourcery was the perfect remedy. However, just because it's lighthearted doesn't mean it doesn't come with its own deeper dose of Pratchett's just-as-trademark ruminations on life, death, and the meaning of it all.
The truth isn't easily pinned to a page. In the bathtub of history the truth is harder to hold than the soap, and much more difficult to find…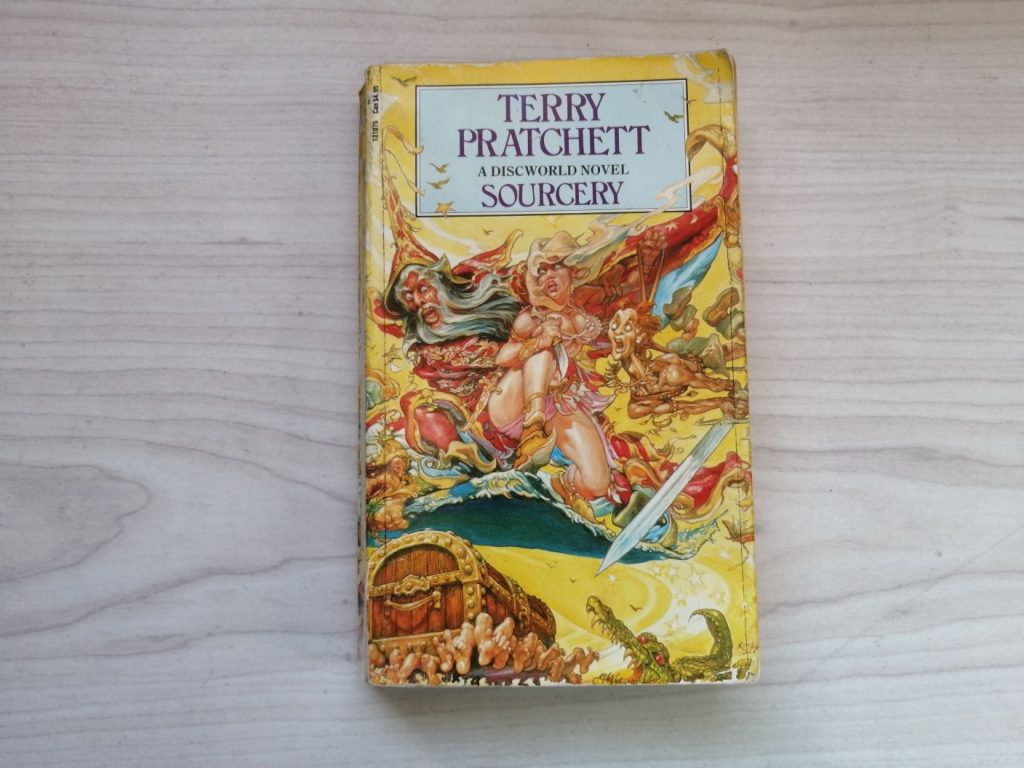 B.I.S.A. Brunei Secret Intelligence Agency: Eventually by Amir Falique
The 132nd book for my challenge to read a book from every country in the world, this was my find for Brunei. And yes, I was absolutely delighted to find a piece of mystery fiction. Or close to it; it's more of a secret agent story, but I still really enjoyed it. Most of the action takes place in a restaurant that acts as a front for the secret intelligence agency. I love stories that take place entirely or mostly in a single setting. It creates an exciting challenge for the writer to be inventive with action and dialogue, because you're confined to one space with the same characters – and Falique rises to the challenge.
American Gods by Neil Gaiman
Gaiman and Pratchett wrote together when the latter was still alive, so as a fan of Pratchett's I've wanted to get into Gaiman's work for the longest time. I finally did with American Gods. Having watched the first season of the TV show adaptation (I've even met Ricky Whittle, who plays Shadow Moon!), the first part of the story was very familiar. I became more absorbed once I got to the part that hadn't been covered by the first season of the show. But reading the bits that were covered by season 1, really made me appreciate how well the show was adapted, especially visually. Like Pratchett, Gaiman writes great characters (although very different to Pratchett's) and even though it's also dubbed as fantasy, American Gods feels more folkloric. It's dark, raw, and perfectly paced – taking you on a great American road trip, while also giving you chance to breathe in the moments when Shadow settles at a funeral parlour and later in a sleepy town.
"there's none so blind…as those who will not listen."
The Monarch in the Glen by Neil Gaiman
This novella was included at the end of American Gods and follows its main character, Shadow Moon. I really liked this story – particularly the eerie Scottish setting. Not quite ready to let Shadow go, I appreciated being able to go on another journey with him through this quick story.
Rare Stamps: Reflections on Living, Breathing & Acting by Terence Stamp
Even though I'm not a massive memoir fan, I do love actor autobiographies. I learnt about Rare Stamps after listening to an interview with Stamp on a movie podcast. I downloaded the book on Audible, read by Stamp, who has an amazing voice. This is not his only book that focuses on his life and work. As such, it does not span his entire life as so many memoirs and autobiographies tend to, but instead hones in on specific moments and themes, making it a much more focused work.
 After the Funeral by Agatha Christie
After more than three months of not stepping into a bookstore, I went to two in the space of about a week. It's not fun having to wait till your hands dry after being drenched in sanitiser, looking at titles over the top of your mask, and not being able to stick your nose into a book to inhale its comforting scent, but it was still great to be back! I picked up a little stack between the two secondhand stores I visited and one of the picks was this book by Christie. Its death in the family + funeral setting + character ensemble immediately made me think of the film Knives Out. As it should, since the movie is inspired by Christie's mystery writing. Yet again, I didn't see the twist coming. In a Christie novel you can suspect everyone – which you usually do, because you know the killer can be anyone – but I suspected almost everyone for that very reason and still couldn't confidently place my finger on who I thought the killer was. Even if I had guessed the killer, I would not have guessed how they committed the murder nor the deception they employed in pulling it off.
The Magic of Findhorn by Paul Hawken
This was another book I picked up on my bookstore run. It used to be that when I bought a book, I would place it on my oversized TBR pile and only read it several years later. I've become a lot better about that. The Magic of Findhorn follows the founding of the ecovillage and spiritual community of Findhorn in Scotland. I picked it up because I was intrigued by its tale of a "rubbish dump [that] blossomed into a Garden of Eden", but thought it would be a bit of a slow read. Instead it completely absorbed me and I breezed through it, finding it endlessly captivating. Hopefully, some of its magic leaks off the pages into my own garden!
What happens to the mind when it begins to ask questions that only the soul can answer?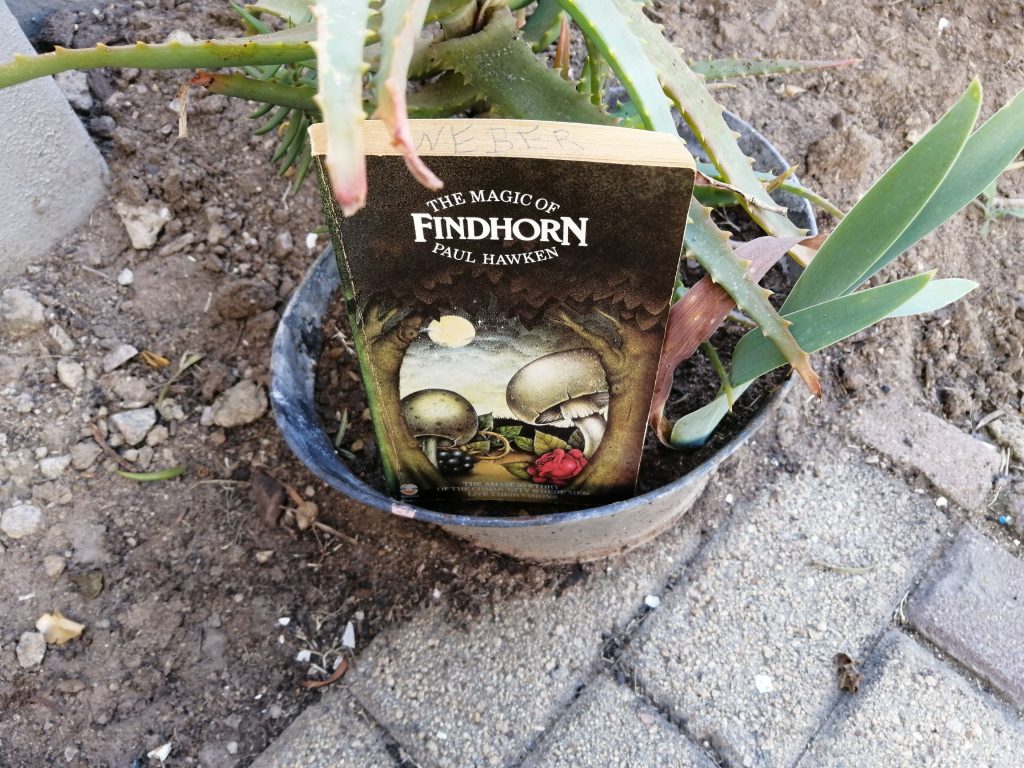 Samantha's Surprise: A Christmas Story by Maxine Rose Schur
The American Girls podcast released their episode on Samantha's Surprise, so I dove into the third instalment in the Samantha series. It only took about 10 minutes to get through this book, which I probably haven't read in almost twenty years. I was amazed at how much I remembered about the story! Earlier in the month I also took a dive into my American Girls cookbook and made peanut butter-and-mayo sandwiches. The sandwiches also have lettuce on them, which isn't that peculiar if you consider that celery and PB is a thing. And the PB and mayo thing worked, although I did put on more PB than mayo. I even got cookie cutters to make the sandwiches look as pretty as they do in the cookbook.
Five Go to Smugglers Top by Enid Blyton
Probably the most incredible aspect of the Famous Five stories is how negligent the adults are. Although I appreciate the fact that the children are their own heroes and save the day themselves, I do wish Blyton had made the adults a little nicer. The fact that they never believe the children or take their sides until the children literally catch a bunch of criminals themselves is endlessly frustrating. I suppose in the '40s to '60s (when these books were written) adults subscribed a lot more to the dictum of "children should be seen but not heard".
I've already started my next book (of course!), which also happens to be one of my recent bookstore finds. Check in with me at the end of the month for what that title is.
Happy reading!