For a while there, I was kind of over writing these monthly reading roundups. And then I found myself missing them, so here I go again.
The Perfume Burned His Eyes by Michael Imperioli
Last year was the year I finally watched The Sopranos. Afterwards, I found a podcast hosted by two of the actors, Michael Imperioli and Steve Schirripa, called Talking Sopranos. It's a re-watch podcast and as much as I love listening to them talk about the show and interview cast and crew, I love it just as much for all their talk about New York, Vegas, food, and theatre. Imperioli also wrote several episodes of The Sopranos and somewhere down the line I realised he'd written a book too, called The Perfume Burned His Eyes.
A New York-set, coming-of-age story about a teenager who meets and befriends the musician Lou Reed, it was a great book for my latest habit of creating song playlists out of the books I read. I enjoyed the book a lot too, of course. This book is definitively Imperioli. The humour, melancholy, and mischief that brim from Imperioli in the podcast are exuded through the character's protagonist. A love letter to New York, to Lou Reed, it's a touching and personal tale.
Of a Fire on the Moon by Norman Mailer
This book is the reason I only read two books this month. It's long and slow, as well as being incredibly technical and detailed. It put me in mind of reading Hunter S. Thompson's Hells Angels, which is also slow and detailed. Hardly surprising given that Mailer was an early proponent of "new journalism", which in Thompson's case evolved into his famous gonzo style. Inserting the reporter into the story, new journalism is aware of the writer's presence and, more importantly, their subjectivity.
At times it was exhausting reading this book, which follows the moon landing of 1969. But it is brilliant. Despite the genre's (if you want to call it that), claim to subjectivity, Mailer approaches this momentous occasion from all angles – simultaneously wondering if this lunar expedition is the boldest and smartest thing humanity has ever undertaken or the most foolhardy and greedy. As he waxes philosophical, even cynical, he does not fail to pack an emotional punch, just about bringing me to tears on several occasions. Whether crying for humanity's audacity or accomplishment, it's difficult to say…although realising the astronauts left a whole bunch of crap on the moon, made me think the former. Trust humans to explore far and wide, only to leave their trash behind.
Philosophical musings come side to side with technical detail and transcripts between Houston, Columbia, and Eagle. Even though I got lost (and admittedly bored) with a lot of the technicalities and acronyms, Mailer has moments of excellent analogy that paint a vivid picture and elucidate technical moments. And in an era of bite-sized information, it was satisfying to commit to a work packed with so much knowledge and detail.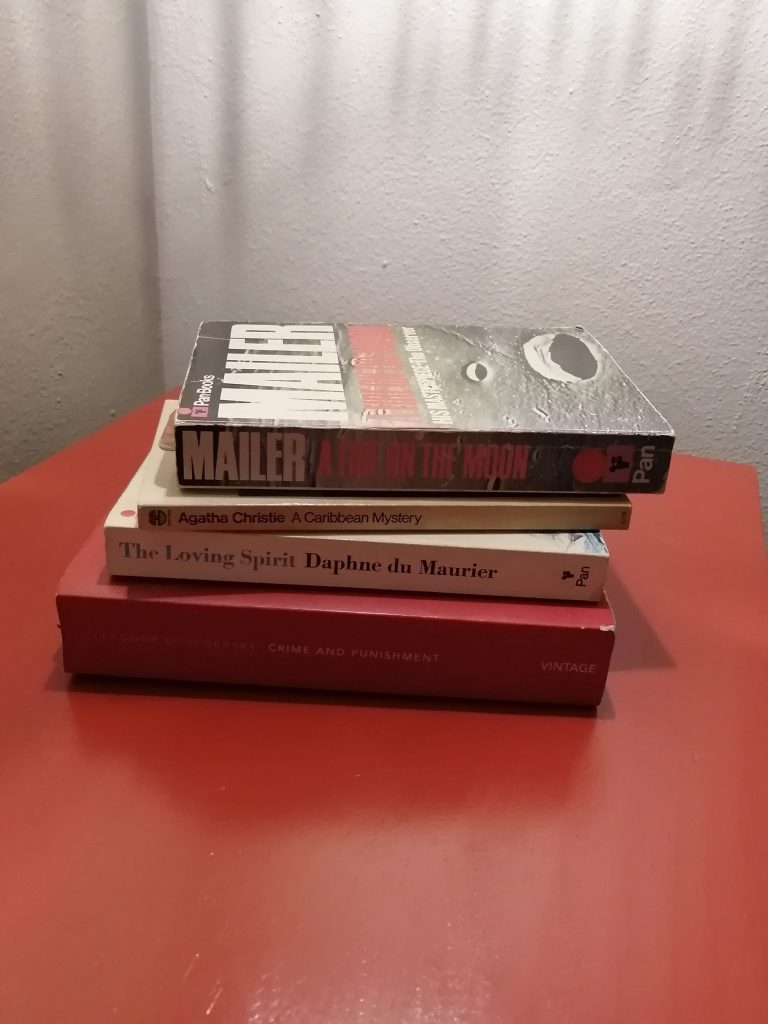 On a much less serious note, the month of Halloween is approaching. October, as before, will be devoted to horror. From the books I read to the shows and movies I watch, it's going to be all about murder, mystery, witches, fairies, and whatever else I can get my hands on. I've got a long Halloween TBR list, plus I've already snapped up a few secondhand books that weren't even on the list to begin with. I'm going in prepared.
View this post on Instagram